Get our FREE eBook!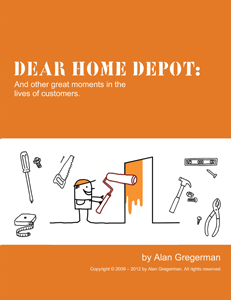 DEAR HOME DEPOT:  And Other Great Moments in the Lives of Customers is a collection of twenty of our most popular short articles on the power of connecting with customers written by Alan Gregerman between 2009 and 2012.
Each article is written to get you and your colleagues thinking about your customers in new and different ways.
The topics in this collection include:
Why making customers smarter is a brilliant idea.
Why nobody really wants a rebate for anything.
Why making customers sweat is rarely good for business (unless you run a health club).
Why the real keys to your success might be found wrapped in a burrito.
Why even the best products also need a great customer experience.
And 15 others…
DEAR HOME DEPOT is our first e-Book.  Tell us what you think about this format and approach to providing ideas you can use in growing your business.